XR Protester Dressed As Bee Glues Self To Lib DEM Battlebus
A protestor with Extinction Rebellion dressed up as a bee and glued himself to a Liberal Democrats' Battlebus. The environmental group is intervening, where it can with the general election.

XR said the goal was to "buzz around" politicians' campaign battlebuses to demand the election's main priority center around what they see as an ecological and climate crisis.

The episode happened in Streatham, outside the Knights youth center in south London. While activists were waiting for Jo Swinson, Lib Dem leader, around six to seven activists dressed in bee outfits ran toward the bus.

One man glued a hand to the windshield while also smearing ketchup on the windshield. The others handed flyers out and debated with the Lib Dem activists.

Linda Doyle, one XR activist, said the plans Lib Dems have to address climate change isn't good enough. According to their policy, greenhouse gases are to be neutral by 2045, which is unacceptable in giving the youth a future.

Police created a cordoned around the area, keeping activists and others away from the bus. However, when Swinson arrived, she spoke with activists, saying her party's plan was to be ambitious as much as possible.

Swinson said there is a bit of irony gluing one's self to an electric bus, but she didn't criticize the move. She said she welcomed the idea that climate emergency be a top issue with the election. Swinson said it could be a great way to have a real debate about how to address the climate crisis.

She did say the party's climate targets were realistic and ambitious, with potential for review when technology improved.

Swinson said it's imperative that carbon dioxide be removed from emissions as quickly as they can possibly be and speed up the planting trees program so carbon can be eliminated out of the air.

XR said it was targeting everybody involved with the election. The protest, which went by the name "Bee-yond Politics," was pulled off to alert officials of the major biodiversity loss that comes with their poor policies.

It said activists wanted the next prime minister to know about the bees and other pollinators' plight and realize the future of these insects were in their hands. They said the bee population faced habitat destruction and extreme weather that will cause food vulnerability due to crop instability.

Australia Already Sees and Experiences Negative Consequences Of Doing Nothing About Climate Change
It appears Australia's trapped in a climate spin. After all, for several decades now, this arid, prosperous country of 25 million people supported its country by selling coal to various parts of the world. And, with the East Asian economies growing, Australia is more than willing to help them maintain their lifestyle (and lights).

While Australia was helping Asia with its needs – food, minerals and fiber – it was also helping itself, but now the same things that once helped it is now bringing on its destruction. The fossil fuels the country uses is feeding into the climate crisis currently being experienced.

One such disaster currently being experienced is the wildfire crisis. In the last three months alone, southeast Australia has experienced brushfires that have scored millions of acres of land, positioned the air in Melbourne and Sydney and led to the evacuation of more than 4,000 residents and tourists who have ended up in the tiny beach town of Mallacoota.

The Australia fires have gotten international attention before, but it's the present situation the country is dealing with that has really sparked interest. In fact, in just six months' time, the Australian fires have burned over two times the area of both the 2019 Amazon and 2018 California fires.

Another issue is the permanent damage to the planet's ecosystems. In this case, that would be the country's Great Barrier Reef. In a two-year period from 2016 to 2018, about half of the coral in the reef had died, bleached out due to oceanic heatwave that left them starving for symbiotic animals.

Since it takes tropical coral reef 10 years to bounce off from this kind of die-off, and the pace in which climate change is happening, means the even more heatwaves are certain to hit the reef during the 2020s. The only way to ensure its long-term survival is to stop global warming in the next few decades and taking steps that reverse the damage.

That's a goal that needs some kind of revolution in the world's energy system, which means abandoning the use of coal for energy. And, that's where Australia has a problem. After all, it's the second-largest exporter of coal, and it's avoided a recession for nearly 30 years thanks to the sale of it.

While polls show that the majority of Australians are worried about climate change, the government has failed to enact any type of climate policy. In the summer of 2018, former Prime Minister Malcolm Turnbell actually introduced an energy bill that included a climate policy.

However, current PM Scott Morrison defeated him in an election, saying climate change was only the concern of educated city people and that the policy was actually a threat to the vehicles in Australia. Morrison, who brought a real lump of coal to Parliament a few years back to defend the industry, has attempted to depict the wildfires as a crisis, but a crisis similar to previous ones.

To date, the fires have burned over 1,000 homes and killed nearly 20 firefighters. There have been two times as many fires in New South Wales than any other year in the 21st century. The reality is that climate change has perpetuated the epidemic, and with hotter, drier weather, the problem is only going to worsen.

Another reality? Australia is most at risk for the climate change consequences – one of which being that most of the 21st century has been spent in a drought. Its tropical oceans have become endangered, and rising sea levels are threatening its major cities. In order to reverse the dangers, the country's men and women must come together and elect leaders who stand with them.

Without some type of effective leadership, Australia will be stuck in this climate downward spiral, using the coal that brings them prosperity financially but diminishes their lifespan.
Thunberg Plans On Pursuing Climate Change Cause
Greta Thunberg, the Swedish teen environmental activist, promised her fight for climate change will continue in 2020 and hopes that she'll soon get to see Japan if the opportunity arises.

Speaking with Kyodo News, Thunberg, 17, said she remains determined that her impact on climate change will inspire others to change how the climate crisis is viewed and dealt with, with more awareness and pressure put on those in power to do something about the problem.

The comments were made while partaking in the weekly demonstration Stockholm school students held – a date that also happened to be her birthday.

She said science shows that doing nothing is only going to lead to even worse problems. Thunberg said she and others like her are doing whatever they can do to prevent these climate change disasters.

Scientists have said a rise in global temperatures will lead to even more floods and droughts along with rising sea levels due to melting glaciers. Thus, affecting all human life.

Thunberg is responsible for the global youth movement, which started with her school strike for the climate in 2018. She would skip schools on Friday to hold protests outside Sweden's parliament to bring light to the global problem facing the environment. Her activism led to world recognition, allowing her to speak at huge conferences such as the U.N. climate conferences in both Madrid and New York.

For 2020, Thunberg said she would take any opportunity she could to speak with world leaders in getting them to reduce their global emissions. She said she'll be going to the annual World Economic Forum in Switzerland with various business and political. Leaders. She hopes her message is also spreading to areas such as Japan, China and other Asian countries.

Thunberg's travel often involves not traveling by air. For instance, she attended the 2019 New York climate summit, making the trek in a zero-carbon yacht.

According to Thunberg, the young people of today feel betrayed by today's leaders and support her ambition and drive to bring light to the problem. Thunberg said there is an environmental emergency and this is the time to come together and battle this issue.

Early Spring May Lead To Longer, Hotter Summers In Northern Hemisphere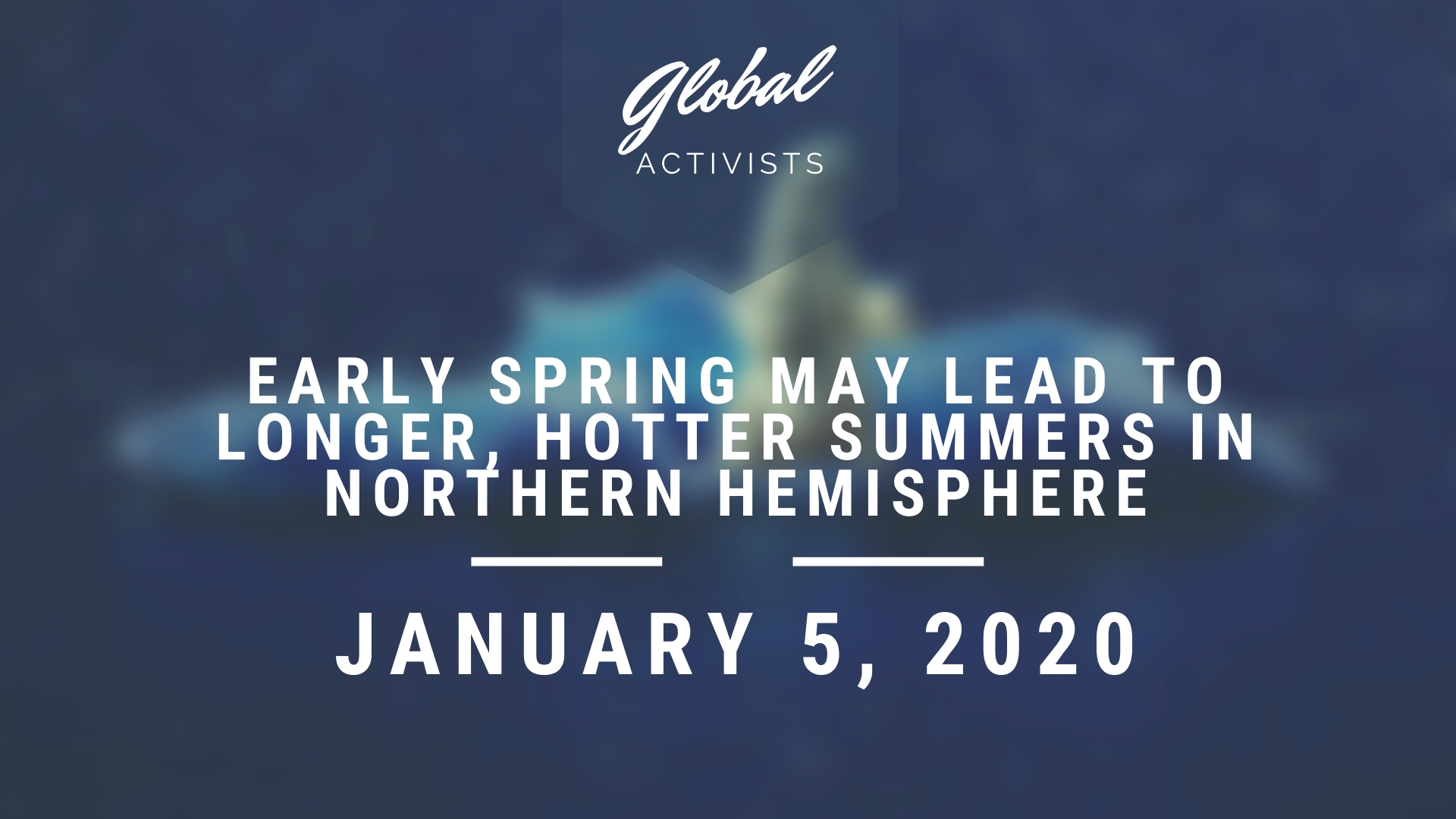 While early spring is often a time people celebrate in the northern hemisphere, it may be bringing with it a nasty side effect – hotter, drier days during the summer.

When winter gives way to spring, it allows the leaves to bloom from the trees and branches, which needs moisture in the soil to grow. When the greening process begins early in the calendar year, the process called evapotranspiration takes moisture out of the ground sooner than needed.

A look at the satellite data and climate simulations are showing early spring weather and greening are leaving soil drier during the summer in the Northern Hemisphere. And, this could lead to intense summer heatwaves.

With the climate warming up, scientists believe earlier springs will happen, which will mean longer growing season. In one study, the Northern Hemisphere growing season is already 10 days more than average compared to 30 years ago.

U.K. Center for Ecology and Hydrology climate modeler Chris Huntingford said the more green on the ground, the more likely evapotranspiration will occur.

It's not known if a local rise in pumped water in the atmosphere through the process would be helped with rain falling back to Earth, or if some areas were more affected by this than other locations.


Huntingford, along with other researchers, looked at the satellite information of vegetation cover and soil dryness in the Northern Hemisphere from the years 1982 to 2011. In much of the top half, an earlier spring greening was tied to drier soil in the summer than when spring happened later in the year.

The weather may also play a role in the earlier spring of certain areas. For example, Siberia experienced several early springs but never had summer dryness. It's thought that the weather patterns are consistent enough to give them excess moisture from Europe.

Soil dryness often leads to severe consequences such as rising local temperatures near the surface, leading to heat waves or making heatwaves even worse. According to researchers, climate simulations were soil dryness occurs because of an early spring could increase the number of hot days during the summer by one day every 10 years with an increase of 0.07 degrees Celsius of that same time.

Scientists say it doesn't sound like a lot now, but in 50 years, it could mean that heatwaves will become too intense for people to feasibly handle.

Researchers are also considering plans to do an analysis of the Southern Hemisphere to determine the correlation between soil dryness and early greening, especially in areas where heat-linked disasters are probable.