Climate Activists Continue On To South America Despite Conference Cancellation
The climate activists on a sailboat along the Atlantic Ocean and on their way to Chile for the UN Summit recently learned it had been canceled – four weeks into the trip.
They began their voyage on Oct. 2, starting in Amsterdam to showcase how devastating flying can be on the environment. They were already half-way through the seven-week journey to take part in the December UN Climate Conference.
On Wednesday, Chile's President Sabastian Pinera said the country was unable to host the summit due to the ongoing protests that have left about 20 people dead and resulted in eight cabinet members resigning.
Although canceled, the groups chose to sail to Belem, Brazil.
The group said there was some shock and what do they do now, but they decided to push on and continue with the goal – to bring light to the climate impact aviation is having on the environment and make people aware of it.
The COP25 has considered other areas for the meeting, but the group will continue to Brazil to take part in an eventual summit. According to the group, should the COP25 come to the area, they can be there on time and find out about sustainable travel ideas while there.
And, if it turns out to be in Costa Rica, the group can make a course direction that way.
The group received news of the summit's Nov. 20 cancellation while near the Cape Verde islands, which is close to West Africa's coast.

Multiple Groups Plea With USDA To Leave SNAP Alone
Elle Simone Scott was just a child when her family needed food stamps and the free lunch school program to take care of the family.
She said there were several times in her life when the free lunch was when it was needed the most; so beneficial to her. She said it was often the most complete meal of her day.
Scott, a TV host of America's Test Kitchen and chef, has joined in on the fight to save the Food Stamp program from a suggested rule change the Trump Administration has brought forth. She was one of several dozen individuals – local activists, students, parents and anti-hunger groups that held a lunch-in outside the U.S. Department of Agriculture. They came with petitions that included 1.5 million signatures pleading with the agency to not go with the proposed rule change.
The change, which was announced during the summer, would cut off SNAP (Supplemental Nutrition Assistance Program) benefits to over three million people with the elimination of the broad-based categorical eligibility. This category gives states the flexibility to waive some income and asset limits for households that get welfare benefits as well as SNAP.
According to NPR Pam Fessler, the majority of states use these waivers because it's easier to carry out safety-net programs that have different eligibility requirements.
The USDA recently released a report that showed changing this would deem about one million kids ineligible for the free lunch program. The agency said the change would affect just half those kids because they could still be eligible if they applied for the program another way. Again, that means more paperwork, which puts more burden on families already having issues meeting their needs.
According to D.C. parent and local activist with PAVE (Parents Amplifying Voices in Education), Dionna Howard, it's a lot to go through to get the little given to families. Howard said her mother is still reliant on food stamps.
The report from the USDA shows that 51 percent of affected kids could be eligible for reduced-prices, with another four percent losing free lunch completely due to exceeding income eligibility limits.
Agriculture Secretary Sunny Perdue said the change would lead to a $2.5 billion a year savings for SNAP. However, anti-hunger non-profit DC Central Kitchen CEO Mike Curtin said SNAP is one of the least abused government programs, and leaders need to look at how they can expand it rather than limiting access to it.

He said the country is always talking about how the kids are the future, which means they need to have lunch to be that future.
While the public comment section for the SNAP change was closed on Nov. 1, ParentsTogether co-founder Bethany Robertson hopes the petition will spur lawmakers into taking action against the rule change.
Robertson said they anticipate other petitions will come forward and motivate some of them to say no thanks and come up with something else.
Employee Activism Changes Google's Meetings Format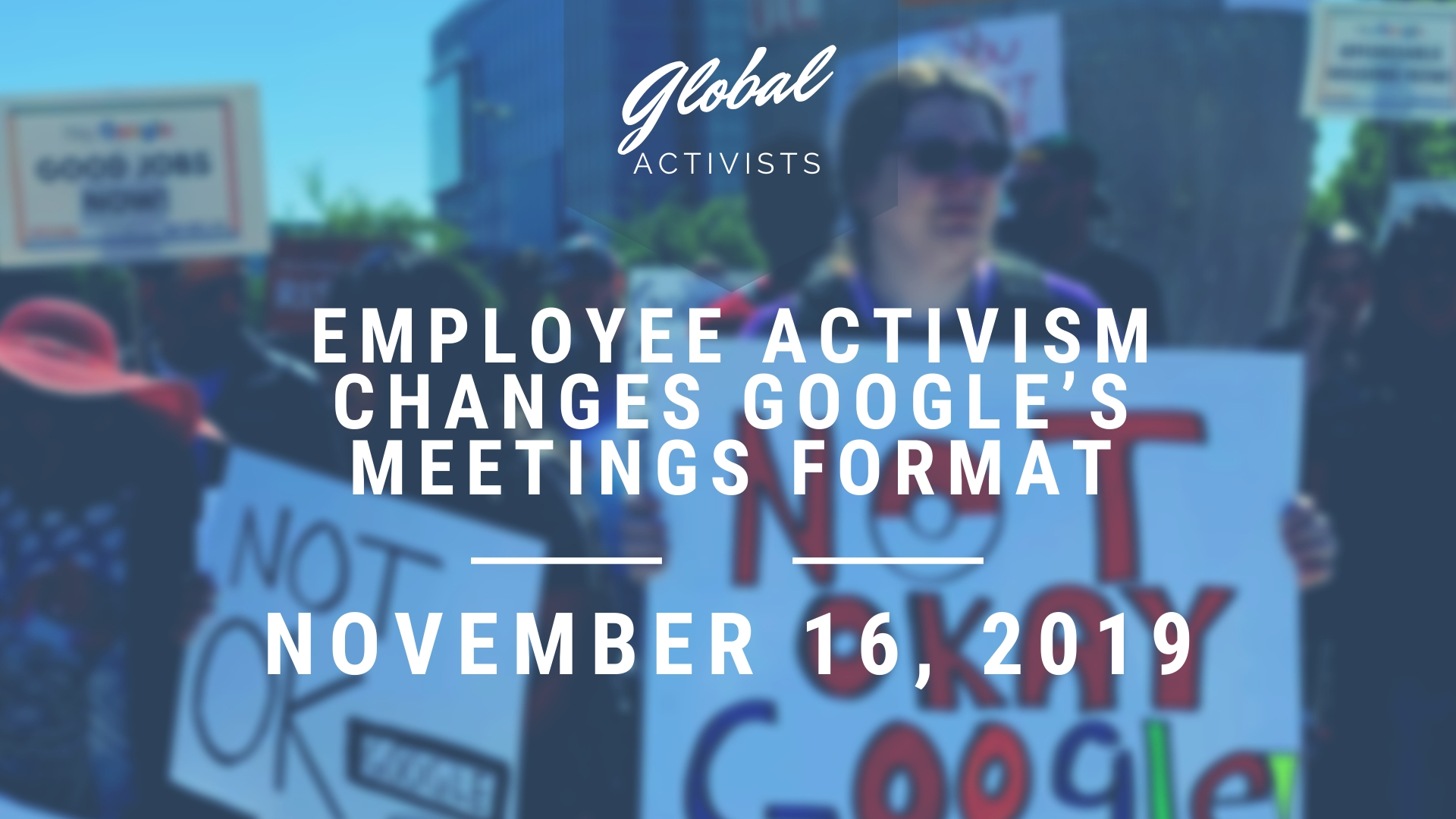 Sundar Pichai, Google CEO, recently announced in an internal email that employees would no longer need to do biweekly town hall meetings in response to the activism among Google employees.

Instead, the TGIF meetings will be held once a month and focus mainly on business and product strategy instead of internal politics. Pichai said TGIF typically offered a place to come together, ask questions, share what's going on and more. However, in the present format, it's not working.
Based on the letter, it seems Google wants something different to come from the meetings. Some people want attention on product launches or business strategies while others want to learn some answers about other things.
According to Pichai, Google realizes there has been an organized effort to provide the outside world with conversations going on with the company. He said the activism among the employees has led the company to hold town halls focused on workplace issues along with social TGIFs.

Groups Highlighting Problem With Facial Recognition Technology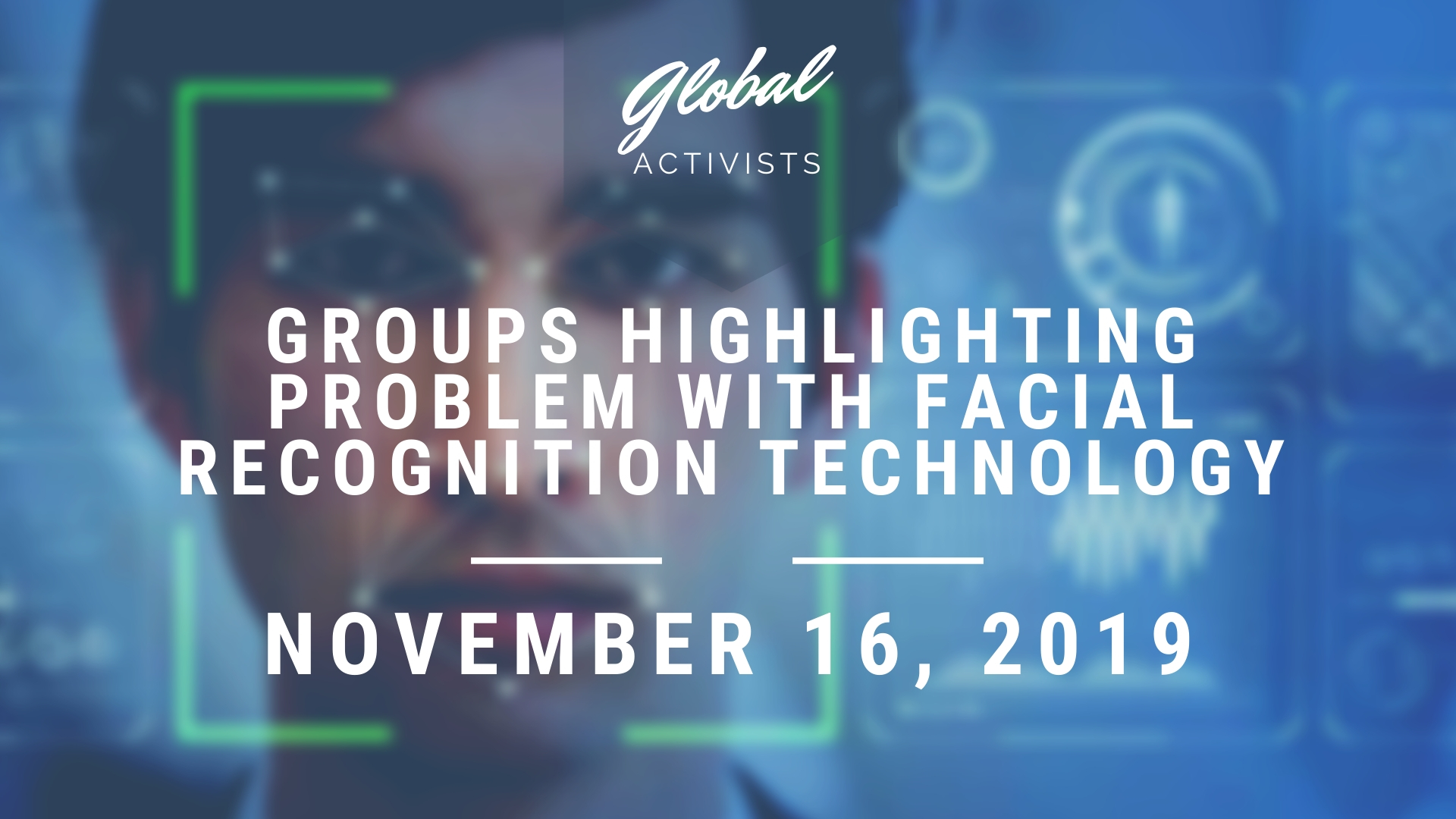 There are minimal laws in place for facial recognition technology loss, which is why a digital rights group is making a point with the scanning of people's faces at busy Washington, D.C. intersections.
The group wore white jumpsuits with a hood and a yellow sign that said "facial recognition in progress" on the front. They were also using headgear tied to phones that used Amazon's Reckognition facial recognition technology.
Fight for the Future Deputy Director Evan Greer said facial recognition technology should be illegal, but until Congress acts on it to ban the practice, it's easy for anyone to violate fundamental rights and do biometric monitoring.
The demonstration is due to the increasing negative drawback facial recognition software has with several civil rights groups saying it would potentially allow mass surveillance and suppress protesting due to worries of being recognized.
However, law enforcement and tech companies are seeing it as beneficial to coming up with new services and solving crimes.
Of course, Amazon, Microsoft and other tech companies are asking for some facial recognition regulation to make sure that it's in the best interest of the public. Both Google and Microsoft have moved toward not selling their versions to authorities.
Jeff Bezos, Amazon founder and CEO, said he liked it if there was some regulation as well. It said it's something that can be very positive, but there is also some room for abuse, which is what he and other technology companies want to avoid.
Several cities across the U.S. have banned facial recognition use.
Last year, the American Civil Liberties Union used Rekognition, matching the faces of U.S. lawmakers to a criminal mugshot database. According to the group, there were 28 false matches. However, Amazon felt those claims were misleading, as the company felt the software wasn't used correctly.
Fight for the Future held its demonstration via livestream on the ScanCongress.com site. The activists scanned different faces and matched them against a list of Amazon lobbyists, lawmakers and journalists.
According to Greer, there were over 12,000 faces canned, including a member of Congress. Fight for the Future will only hold the data for two weeks and then delete it all.