Convictions For Two White Supremacists In Attack On Antifa Members
Two U.S. far-right group members were recently sentenced to four years behind bars for their participation in a fight with anti-fascist demonstrators that took place in New York.

John Kinsman and Maxwell Hare's sentences come as tensions between U.S. leftists and white supremacists are festering. The men are Proud Boys group members and were found guilty in state court back in August on several counts of attempted assault and rioting.
The jury determined the two were guilty of assaulting four Antifa members who were demonstrating outside an event where Kinsman and Hare were Oct. 12, 2018. Antifa is an anti-fascist group.

Prosecutors were hoping for five years in jail. However, a Manhattan District Attorney spokesman said the pair, instead, was sentenced to four years.

Proud Boys is an all-male group that Antifa members view as neo-Nazis. Antifa means anti-fascist that refers to a free international group of protestors and activists that disagree with the far-right's thoughts.

Reports of violence have been scattered against Antifa members.

Both groups have been holding counter-demonstrations and rallies throughout the nation, including the one in Portland, Or. Here, the Proud Boys and other ring-wing activists were holding up American flags and wearing Make America Great Again hats President Donald Trump used during the presidential campaign in 2016.

Antifa members and other leftist-counter demonstrators wore all black and masks.

In 2017, Antifa members and white supremacists fought each other at the Unite the Right rally in Virginia.

Alex Fields, Jr., an American neo-Nazi, was arrested, charged and convicted for killing a woman and injuring scores of others using his car during the protesting.

Canada May See A Rise In Corporate Activism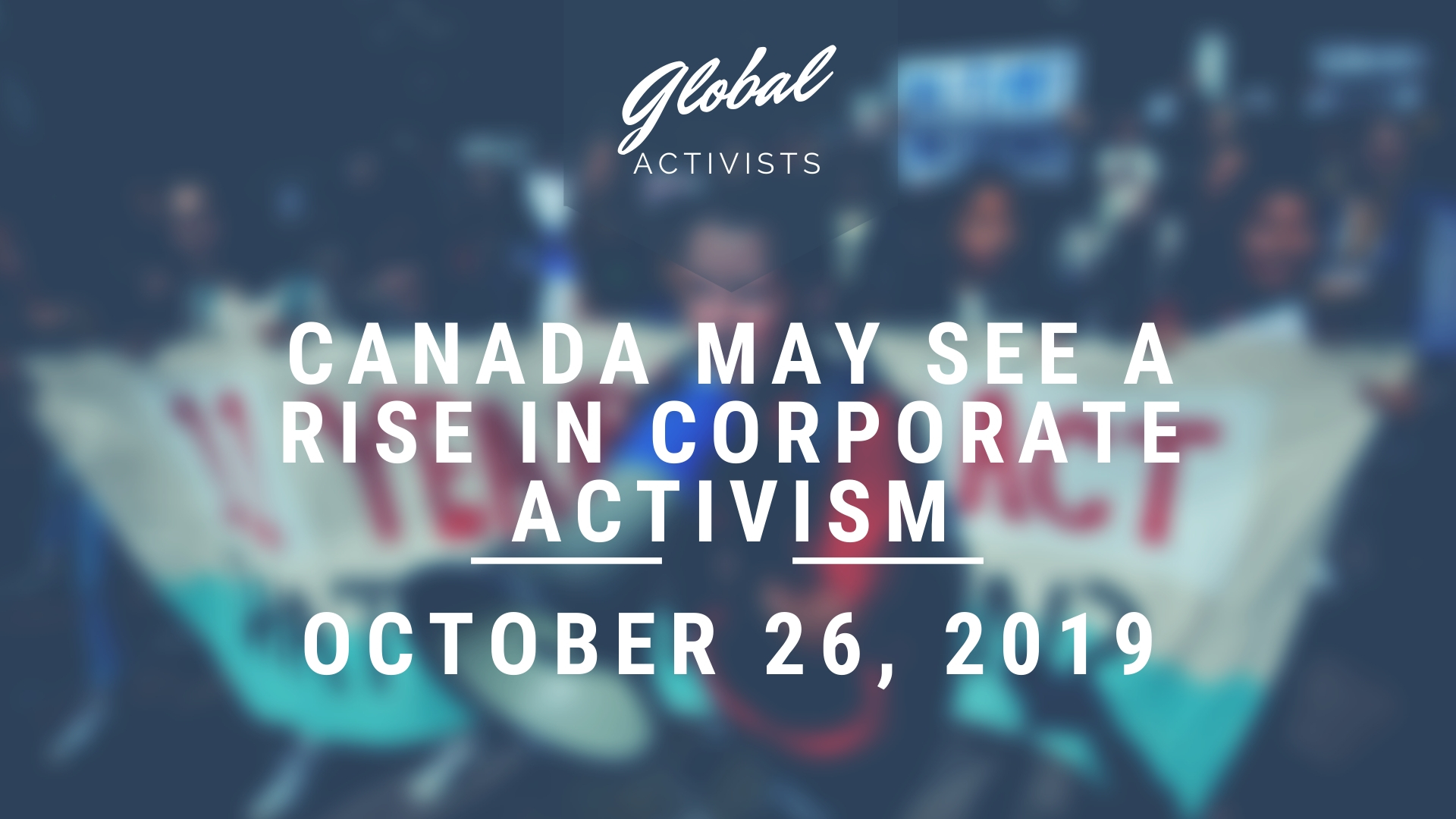 Canada saw a record high of shareholder activism in 2018, and even though the activity has waned a bit in 2019, speakers at the yearly Corporate Secretary Think Tank saw first-time activists numbers are rising.

Canada saw 78 activist campaigns in 2018, with 57 of them taking place before July. To date, there have been just 28 companies targeted – a marked 40 percent decline in activity. Some noteworthy scenarios from 2018 include the proxy fights at Crescent Point Energy, Hudbay Minerals and Detour Gold – which investors, who normally would not have been seen as activists, led or set up.

Kingsdale Advisors CEO Amy Freedman said situational activism is an issue, as anybody can become an activist. She said it's important people know who are voting their shares and that they understand activists' nature – be it in the U.S. or overseas.

Norton Rose Fulbright global chair Walied Soliman agreed, saying people need to take the letters of their shareholders seriously. What is done with those letters determines who is going to become activists.

Both of them feel issuers need to hold a powerful shareholder engagement strategy to reduce the chance for activism.

In 2018, there was a significant number of proxy contests regarding board seats; 18 of them going into the proxy meeting. This is nearly double the number in 2017 (10) with eight in 2016 and one in 2015. So far, there have been five contests in 2019. The outlook for settlements was a bit more stationary – 32 for 2017, 34 for 2018 and just 16 up to July 2019.

Soliman said with more shareholders becoming first-time activists or even activists having the backs of traditional shareholders; it's not as foreseeable if a campaign is going to a yearly meeting.

According to Freedman, it was the professional authorities' responsibility to make sure their boards understand what the possible susceptibilities are that could lead to activism in the company. They are, she said, a channel for the board.

Soliman agreed with Freedman's statement, saying they and corporate secretaries play a huge role in these situations. He said all campaigns have two parts – a reason for the campaign to take shape. As such, all fights have a moral narrative, which must involve the CEO or governing body in some way.

Freedom said it's important for these campaigns to be taken seriously, even if the activists aren't successful.

Animal Rebellion Holds Protests At London CarVal Offices
Animal rights activists protest Cargill Inc.'s environmental practices at its credit hedge fund London offices.

Animal Rebellion posted a video on Twitter that showed demonstrators in the CarVal's lobby. In the video, the group claimed they were at the head office in London, calling Cargill one of the world's worst companies for destroying the ecosystem.

However, the main office for Cargill is actually in Weybridge, Surrey, which is 30 miles from London. Cargill founded CarVal in 1987, but in a management buyout, it was sold last month. Cargill is still invested in the funds with CarVal overseeing roughly $10 billion in corporate loans, securities and more.

Climate change activists have held demonstrations throughout London, which has disrupted the city and flights. The group is demanding immediate action on reducing fossil fuel emissions and fixing current environmental policies for what they feel is a climate emergency.

Animal Rebellion spokesman Alex Lockwood said they went to offices to protest about the insane amount of money going into animal agriculture support. The group's intent is to end livestock farming and move toward a plant-based food program. Lockwood said it's time to reinvent the food system, which he claims is broken.

Meat manufacturers have faced intense scrutiny by scientists who claim the industry is a huge source of deforestation and methane emissions. Cargill announced in July it was working to reduce its own climate footprint and cut 30 percent of its greenhouse gases across North America by 2030.

Cargill said the protest at CarVal was minimal in the way of disruption, but that it was dedicated to carrying out business in a safe manner.

Fridays For Future Movement Grows, Leading To Climate Emergencies
The worldwide movement for climate change began with a 16-year-old schoolgirl in Sweden. Greta Thunberg has had the courage and drive to start a movement and the power within her to see it grow. While everybody should be concerned with climate change, it's the worldwide campaign of her activism that has caused politicians and other world leaders to sit up and wonder what urgent action needs to be taken.

Her Fridays for Future movement is the lightning rose to the climate change problem. These protests have caused six country world leaders to declare a climate emergency, but there is no affirmed definition for this term. The consensus though is that declaration acts are the starting point of which forthcoming decisions are made.

To reduce the chances of climate change effects, world leaders are looking at how their policies are affecting the climate. Many regions have created a goal of being carbon neutral by 2030.

These declarations began in the United Kingdom with Ireland, France and Canada following close behind. In May 2019, Germany's Konstanz became the first municipality to announce a climate emergency. But, all these declarations have been met with criticism with four of the countries that declared emergencies are subsidizing the fossil fuel industry.

Some critics claim school-aged children should be in school rather than being involved in climate strikes. According to Thunberg, it's the older generation that caused this issue and should not be saying kids should just be normal kids, as they are cleaning up after the older generation.

And, arguing against the movement Fridays for Future is difficult to do with the momentum gaining steam.

That's not to say these activists have not worked hard to get people involved in the climate change movement. There have been years of effort put forth already. It's nothing new, and people coming together to make a change isn't new either.

Germany is one of the more focal points for the Fridays for Future group, with protests bringing in large numbers of people. They are a great example of people supporting a cause. For instance, they came together to save Hambach Forest's last 200 acres from being mined.

And, Fridays for Future also helped to find Scientists for Future, where students and scientists are trying to increase awareness of what inaction could lead to.

Citizen activism is helping to expand participation, and Germany is just one of a few examples that show what can be done if enough people get involved and the politicians of the world can stop their bickering long enough to pass measures that save the planet before it's too late.