Activists Take Up Charge Over Hambach Forest Destruction
Western Germany's Hambach Forest is under siege from the largest power company that wants to clear the 12,000year-old natural resource for its coal mining expeditions. There is just 10 percent of the original 13,500 acres left.
Environmental activists have been living in the forest since 2012 in the hopes of stopping the destruction.
One activist, going by his forest name of Tricky, commented on the situation, saying nobody was going to save them, so they had to save themselves. He said people who stand up for themselves in the oppressive societies tend to meet either violence or death for speaking out. He said it was his duty to take some type of action.
Neha Hirve, a photographer, first learned of the forest community while in India for a separate project. When headlines mentioned the destruction of Hambach Forest, Hirve felt she needed to see the forest before there wasn't one.
Hirve traveled to Germany that next week and began a photo story about the community protecting the Hambach forest. She was given a phone number to meet with one of the activists but was told that she might not make it past a police barricade. This did not stop her.
She was able to enter the forest at night, walking until she found a structure the squatters built. Knocking on the door, the activists welcomed her in. Hirve said the home was damp and cold, and she thought to herself that she would not last a week.

For almost a year, she visited the area multiple times, and even though she expected some clashes between the activists and police, it never happened… at least not while she was there.
Hirve said the activists were like protectors of the forest, and she was drawn in by the stories of people who wanted to live beyond today's society. She said she tried to understand why they wanted to do it.
Her work has allowed others to get into the world of people who take up a cause, risking their lives to save something. In some of her pictures, people are wearing animal masks or using trash to build barricades.
With her pictures, Hirve was able to capture the state of mind the activists have, conveying it in a lighthearted way but still raising questions as to the decay of society.
Hirve never expected what activists were worried about. But police and special forces arrived in September 2018 to start evicting people from the area, which included destroying treehouses and placing activists under arrest. All this was stopped after a journalist fell out of a tree and died.
For the moment, the forest is safe with RWE telling the government it won't resume anything until late 2020. Its future, it seems, is still uncertain.

Multiple Groups Plea With USDA To Leave SNAP Alone
Elle Simone Scott was just a child when her family needed food stamps and the free lunch school program to take care of the family.
She said there were several times in her life when the free lunch was when it was needed the most; so beneficial to her. She said it was often the most complete meal of her day.
Scott, a TV host of America's Test Kitchen and chef, has joined in on the fight to save the Food Stamp program from a suggested rule change the Trump Administration has brought forth. She was one of several dozen individuals – local activists, students, parents and anti-hunger groups that held a lunch-in outside the U.S. Department of Agriculture. They came with petitions that included 1.5 million signatures pleading with the agency to not go with the proposed rule change.
The change, which was announced during the summer, would cut off SNAP (Supplemental Nutrition Assistance Program) benefits to over three million people with the elimination of the broad-based categorical eligibility. This category gives states the flexibility to waive some income and asset limits for households that get welfare benefits as well as SNAP.
According to NPR Pam Fessler, the majority of states use these waivers because it's easier to carry out safety-net programs that have different eligibility requirements.
The USDA recently released a report that showed changing this would deem about one million kids ineligible for the free lunch program. The agency said the change would affect just half those kids because they could still be eligible if they applied for the program another way. Again, that means more paperwork, which puts more burden on families already having issues meeting their needs.
According to D.C. parent and local activist with PAVE (Parents Amplifying Voices in Education), Dionna Howard, it's a lot to go through to get the little given to families. Howard said her mother is still reliant on food stamps.
The report from the USDA shows that 51 percent of affected kids could be eligible for reduced-prices, with another four percent losing free lunch completely due to exceeding income eligibility limits.
Agriculture Secretary Sunny Perdue said the change would lead to a $2.5 billion a year savings for SNAP. However, anti-hunger non-profit DC Central Kitchen CEO Mike Curtin said SNAP is one of the least abused government programs, and leaders need to look at how they can expand it rather than limiting access to it.

He said the country is always talking about how the kids are the future, which means they need to have lunch to be that future.
While the public comment section for the SNAP change was closed on Nov. 1, ParentsTogether co-founder Bethany Robertson hopes the petition will spur lawmakers into taking action against the rule change.
Robertson said they anticipate other petitions will come forward and motivate some of them to say no thanks and come up with something else.
Employee Activism Changes Google's Meetings Format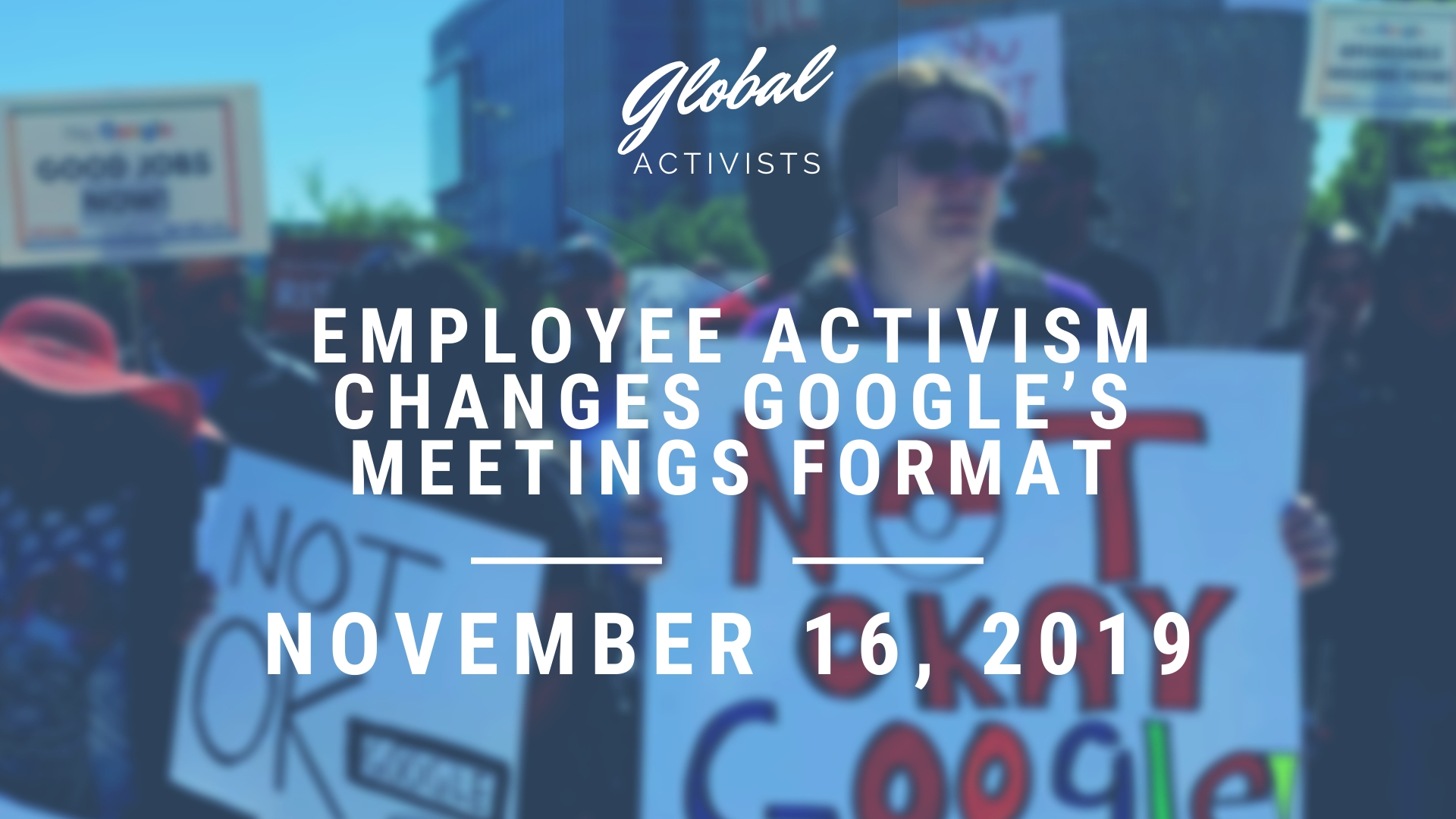 Sundar Pichai, Google CEO, recently announced in an internal email that employees would no longer need to do biweekly town hall meetings in response to the activism among Google employees.

Instead, the TGIF meetings will be held once a month and focus mainly on business and product strategy instead of internal politics. Pichai said TGIF typically offered a place to come together, ask questions, share what's going on and more. However, in the present format, it's not working.
Based on the letter, it seems Google wants something different to come from the meetings. Some people want attention on product launches or business strategies while others want to learn some answers about other things.
According to Pichai, Google realizes there has been an organized effort to provide the outside world with conversations going on with the company. He said the activism among the employees has led the company to hold town halls focused on workplace issues along with social TGIFs.

XR Targets Blackrock For Its Large Role In Amazon Deforestation
Environmental activist group Extinction Rebellion targeted the Blackrock London headquarters to protest their involvement with the destruction of the Amazon Rainforest – what they deemed to be the largest asset manager in the world.
Activists poured wood ash – waste from stoves and pizza ovens – in front of the company's offices, telling them to put the Amazon fire out.
Performers carried out what the group noted as being a carnival of flames and ashes with a troupe of drummers also getting involved.
Aaron Everson-Bullock, an activist with Extinction Rebellion, said the group was there because Blackrock has sponsored much of the damage going on, and they would like it if the business model would be changed.
Mary Stockdale, another XR activist, said Blockrock had become a leading force in ecocide, being a significant investor in the Amazon rainforest and its destruction.
Campaign groups released a report in August that noted Blackrock as being the world's biggest deforestation investor along with two other shareholders.
XR called for a year-long boycott of any deforestation-related products.
Stockdale said XR wanted everybody to boycott any commodity product that was made due to the Amazon such as Brazilian products such as beef, soy, leather, sugar, timber, palm oil and gold.
Stop Ecocide member Matt Wimpress said he'd like it if Blackrock would divest itself from any activity that leads to destruction and pollution. Stop Ecocide campaigns to make it illegal for ecocide to take place.
Wimpress said Blackrock is a machine gone mad, and it's going to take a bunch of folks within the machine to stop it from continuing with its actions. He said it's time for companies such as Blackrock to change themselves for the future.