Jane Fonda Arrested For Her Part In Climate Change Protests
Actress and political activist Jane Fonda was among the 16 people arrested Friday at the rally with other climate change activists taking place at the Capitol and charged with crowding, obstructing and incommoding."

U.S. Capitol Police in the nation's capital took Fonda into custody using zip-tie on her wrists to restrain her with cheers from on-lookers breaking out. All this was caught on video, and the crowd cheered their support for Fonda.

Fonda's arrest, who is a staunch liberal Hollywood celebrity and is well-known for her outspokenness and activism, was planned all along. The 81-year-old wanted to get arrested, which is why she moved temporarily to the capital.

The actress said she got the Ok from Netflix executives to take time away from her "Grace and Frankie" series to spend four months in Washington for the various rallies and sit-ins set to take place. According to Fonda, her inspiration came from Greta Thunberg, the Sweden teenager leading the charge of the climate change movement.

Fonda said Thunberg's address of the Intergovernmental Panel on Climate Change and noting that a crisis was coming right at the planet with no action taking place caused her to realize that something had to be done.

The actress, which has been nicknamed Hanoi Jane due to her standing up against the Vietnam War, said Democrats were at fault for not pushing the climate change agenda.

She said it was great in the 70s when Jerry Brown, the former governor of California, was in charge. People could buy windmills and solar panels, but he failed to take action where oil companies were placing drills (near schools and other communities).

Although Fonda is a leftist and she disagrees with President Donald Trump's policies, personally, she doesn't hate him. She said Trump's behavior is one that exemplifies a traumatized childhood where mom didn't protect him from the father.

Fonda was released from police custody Friday around 3 p.m., and would not talk with reporters about her time. She did say the Fire Drill Friday action, which takes place at 11 a.m., is thanks to Thunberg's response that the house is on fire and people have to behave properly.

Fonda told reporters that she was compelled to be arrested because it would bring media attention to the climate crisis. She said there is so much going on, and it's time to make a breakthrough and avert the climate change crisis that will happen.

She said she, with the help of the other arrested Capitol Police Station protesters, were just waiting their time out and plotting what move to make next. Fonda called her arrest, "great."

Multiple Groups Plea With USDA To Leave SNAP Alone
Elle Simone Scott was just a child when her family needed food stamps and the free lunch school program to take care of the family.
She said there were several times in her life when the free lunch was when it was needed the most; so beneficial to her. She said it was often the most complete meal of her day.
Scott, a TV host of America's Test Kitchen and chef, has joined in on the fight to save the Food Stamp program from a suggested rule change the Trump Administration has brought forth. She was one of several dozen individuals – local activists, students, parents and anti-hunger groups that held a lunch-in outside the U.S. Department of Agriculture. They came with petitions that included 1.5 million signatures pleading with the agency to not go with the proposed rule change.
The change, which was announced during the summer, would cut off SNAP (Supplemental Nutrition Assistance Program) benefits to over three million people with the elimination of the broad-based categorical eligibility. This category gives states the flexibility to waive some income and asset limits for households that get welfare benefits as well as SNAP.
According to NPR Pam Fessler, the majority of states use these waivers because it's easier to carry out safety-net programs that have different eligibility requirements.
The USDA recently released a report that showed changing this would deem about one million kids ineligible for the free lunch program. The agency said the change would affect just half those kids because they could still be eligible if they applied for the program another way. Again, that means more paperwork, which puts more burden on families already having issues meeting their needs.
According to D.C. parent and local activist with PAVE (Parents Amplifying Voices in Education), Dionna Howard, it's a lot to go through to get the little given to families. Howard said her mother is still reliant on food stamps.
The report from the USDA shows that 51 percent of affected kids could be eligible for reduced-prices, with another four percent losing free lunch completely due to exceeding income eligibility limits.
Agriculture Secretary Sunny Perdue said the change would lead to a $2.5 billion a year savings for SNAP. However, anti-hunger non-profit DC Central Kitchen CEO Mike Curtin said SNAP is one of the least abused government programs, and leaders need to look at how they can expand it rather than limiting access to it.

He said the country is always talking about how the kids are the future, which means they need to have lunch to be that future.
While the public comment section for the SNAP change was closed on Nov. 1, ParentsTogether co-founder Bethany Robertson hopes the petition will spur lawmakers into taking action against the rule change.
Robertson said they anticipate other petitions will come forward and motivate some of them to say no thanks and come up with something else.
Employee Activism Changes Google's Meetings Format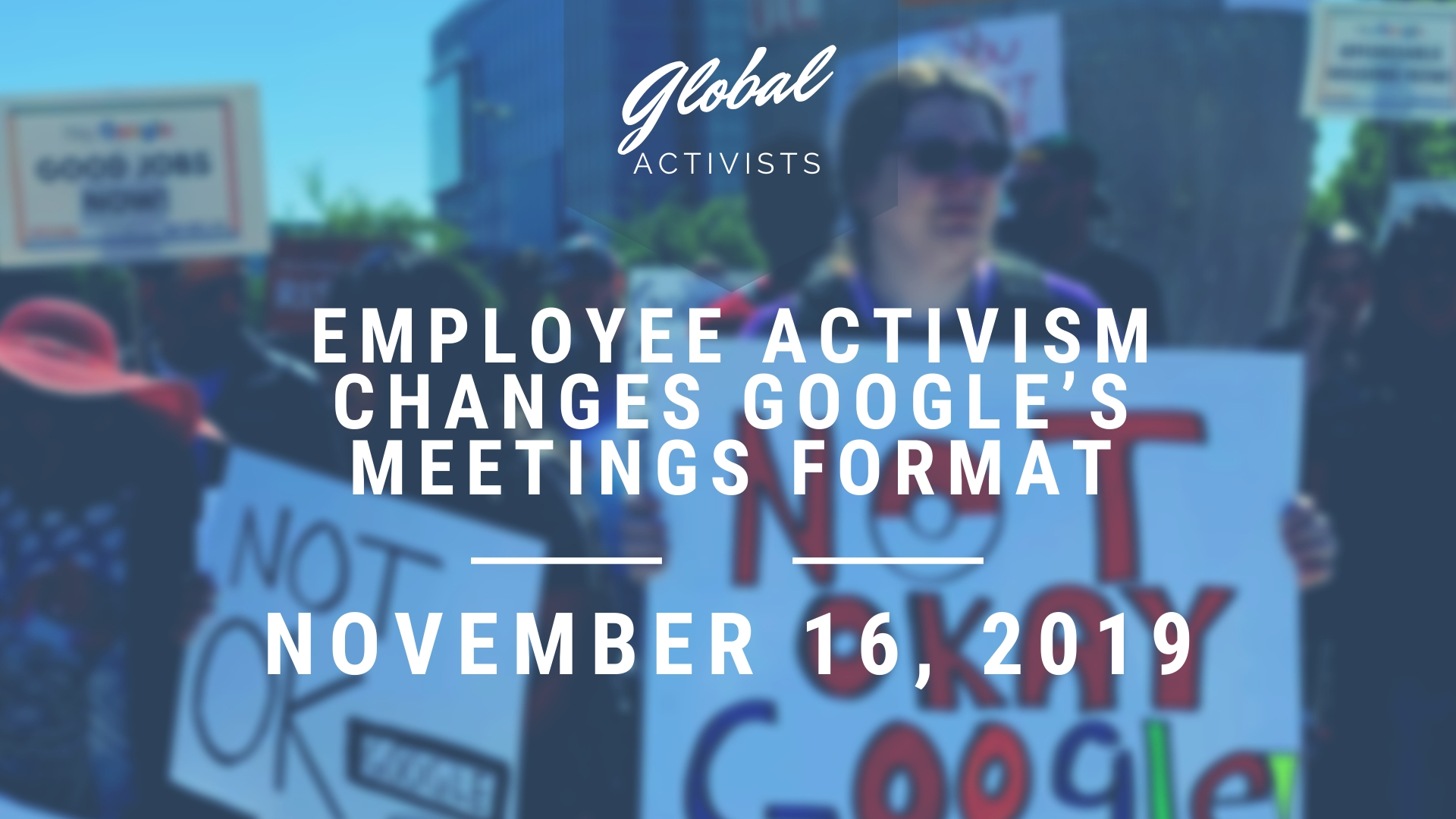 Sundar Pichai, Google CEO, recently announced in an internal email that employees would no longer need to do biweekly town hall meetings in response to the activism among Google employees.

Instead, the TGIF meetings will be held once a month and focus mainly on business and product strategy instead of internal politics. Pichai said TGIF typically offered a place to come together, ask questions, share what's going on and more. However, in the present format, it's not working.
Based on the letter, it seems Google wants something different to come from the meetings. Some people want attention on product launches or business strategies while others want to learn some answers about other things.
According to Pichai, Google realizes there has been an organized effort to provide the outside world with conversations going on with the company. He said the activism among the employees has led the company to hold town halls focused on workplace issues along with social TGIFs.

XR Targets Blackrock For Its Large Role In Amazon Deforestation
Environmental activist group Extinction Rebellion targeted the Blackrock London headquarters to protest their involvement with the destruction of the Amazon Rainforest – what they deemed to be the largest asset manager in the world.
Activists poured wood ash – waste from stoves and pizza ovens – in front of the company's offices, telling them to put the Amazon fire out.
Performers carried out what the group noted as being a carnival of flames and ashes with a troupe of drummers also getting involved.
Aaron Everson-Bullock, an activist with Extinction Rebellion, said the group was there because Blackrock has sponsored much of the damage going on, and they would like it if the business model would be changed.
Mary Stockdale, another XR activist, said Blockrock had become a leading force in ecocide, being a significant investor in the Amazon rainforest and its destruction.
Campaign groups released a report in August that noted Blackrock as being the world's biggest deforestation investor along with two other shareholders.
XR called for a year-long boycott of any deforestation-related products.
Stockdale said XR wanted everybody to boycott any commodity product that was made due to the Amazon such as Brazilian products such as beef, soy, leather, sugar, timber, palm oil and gold.
Stop Ecocide member Matt Wimpress said he'd like it if Blackrock would divest itself from any activity that leads to destruction and pollution. Stop Ecocide campaigns to make it illegal for ecocide to take place.
Wimpress said Blackrock is a machine gone mad, and it's going to take a bunch of folks within the machine to stop it from continuing with its actions. He said it's time for companies such as Blackrock to change themselves for the future.