4 Key Ways To Become A Leader and Make A Difference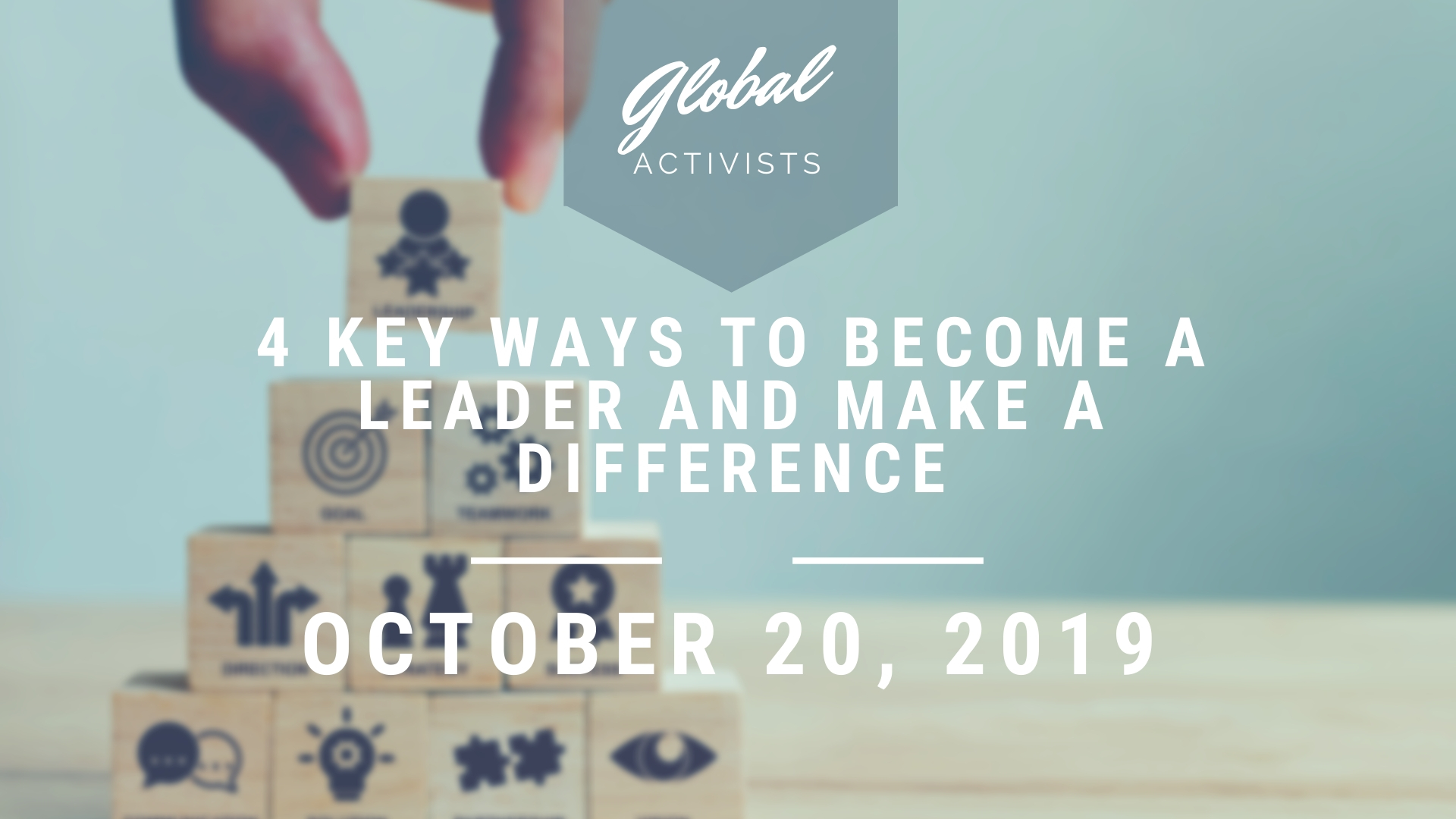 Regardless of where you stand on issues of gun regulation and climate change, the fact remains is that conversations can be divisive and can cause people to become activists. And, today's youth are more active than ever when it comes to things they feel strongly about.

It was first seen in 2018 after the Parkland Shooting and has snowballed from there into marches and rallies for climate change. In September, students from all around the world skipped school with over 3,900 FridaysForFuture protests being held. It's all a part of an increasing youth-led movement that wants today's leaders to take real action on climate change.

And, it was all inspired by a 16-year-old Sweden girl – Greta Thunberg – who stood outside every Friday of the Swedish Parliament building in Stockholm. From there, other youth got involved and today's youth are organizing marches to highlight the need for action.

As a leader, they inspire people to stand up for what they believe in – usually a common cause – to speak out and show their character's strength and vision. Leaders actually help to create other leaders (not followers). And, thanks to social media, it's easier than ever to lead people in an informal way. Leaders will use their passion to cause action. They typically don't back away from something even in fear repercussions.

With that in mind, there are four things prospective leaders can learn from these actual leaders, such as:

Be Ready To Argue Your Point

Always have evidence that supports your theory on why others need to care about it. For example, Marjory Stoneman Douglas High School student Emma Gonzalez spoke at a March 2018 Washington D.C. rally using facts and data she had researched to justify her argument. Greta Thunberg also used science on climate change to highlight the imminent danger facing the planet and humans.

Don't Fear Judgements

Judgments are made every day on controversial and non-controversial topics. After all, people tend to feel strongly about the things that bother them. Leaders tend to face this quite often, but still feel they have a right to share their beliefs with others. This will test your faith when you come across tough opposition, but don't let it rule you and stand your ground.

Share The Passion With Listeners

Leaders, in spite of opposition, will share their views with anybody who wants to listen. The key is not to lose sight of the passion you feel so strongly about. If you repeat your actions and words, people will sit up and take notice.

Avoid Being Political

Stick to the things you're passionate about; if you become political, you're no longer authentic. Becoming political leads to guardedness, and it can cause you to lose the loyalty of those who followed you in the first place.

Greta Thunberg said it best that there were all kinds of ways in which a person can make a difference. Become a leader in what you're passionate about.

Australia's PM Looks To Squash Climate Activists' Activity
Australian Prime Minister Scott Morrison minced no words Friday when he made clear how he felt about environmental protesters, calling them anarchists and radicals. And, it appears he will stymie what he feels is a threat to the economy.

Morrison's conservative government is looking at ways in which it can ban activists that put pressure on companies not to work with the mining and other industries that produce a large carbon footprint.

Morrison said the government is currently looking at ways these practices can be outlawed as they threaten those Australians' livelihood, especially those in the regional and rural areas. He said new threats to the resources sector have come about. Morrison said a new wave of radical activism has been given life, and it's apocalyptic with no room for compromise.

Morrison is talking about groups such as Extinction Rebellion, and he's waging war on these groups. Three years ago, Morrison brought coal to parliament, showing support for the second-largest export. Australian protesters have targeted the coal industry, especially in light of the prospective Queensland project Adani Power Ltd. is considering.

Australia is an extremely dry continent that is prone to catastrophic wildfires. The government said it was working to meet the Paris-emissions-reduction targets, but critics feel they're not doing enough, and the nation still gets most of its energy from fossil fuel.

With Extinction Rebellion gaining steam, it appears Australia is going to see a rise in activism as well. To combat dangerous situations that activists may put themselves in the state government of Queensland is contemplating legislation that would make it illegal for activists to fasten themselves to various objects.

With the risks of climate change playing a role in investment decisions, resource businesses, such as Adani, are having a hard time getting financing for their coal-related projects. And, banks, pension funds and insurance companies are facing a lot of pressure from these environmental groups not to fund projects that can lead to climate damage.

Morrison said some of the nation's biggest businesses would not offer financing or consulting services to these coal industry companies. And, he said this could spill over into other areas if the environmental groups are allowed to continue their rampage.

Frontline Action on Coal Andy Paine said there would be no need to lobby if the prime minister and care for his citizens and the ecosystem.

Swedish Teenage Activist Turns Down Prestige Climate Award
Greta Thunberg, the Swedish climate activist that helped to spark the "Fridays for Future" movement that went worldwide, recently turned down an environmental award. Her reason? The climate movement must get people in power to listen to the science of climate change, not awards.

The Nordic Council, the regional body for inter-parliamentary cooperation, recently honored her during a Stockholm ceremony. The theme for this year's event was focused on creativity, endorsing justifiable consumption and production with the idea of doing more with less.

Both Sweden and Norway nominated her for her genuine efforts, saying she brought new life into a debate about the climate and environment at a crucial time in history. The organization awarded her for its yearly environmental prize – the 2019 Nordic Council Environmental Prize. After its announcement, a Thunberg representative announced she would not accept the award or $52,200 prize.

According to an Instagram post, she said the climate movement doesn't need more awards. Instead, she wrote, what's needed is more politicians and people in power to listen to what scientists are saying.

She thanked the Nordic Council for the honor but criticized them for not living up to their reputation on climate issues and claim they need to do more. Thunberg wrong that actual emissions and ecological footprint her capital speak louder than words.

She said until action is taken that aligns with what science shows is needed – to decrease the global temperature by two degrees Celsius, then the Sweden's Fridays for Future – then it would not accept the prize money.

At just 16, Thunberg gained fame and recognition for spending her Fridays, not in school, but outside of parliament in Sweden in August 2018. She held up a sign saying, "School strike for climate."

Canada May See A Rise In Corporate Activism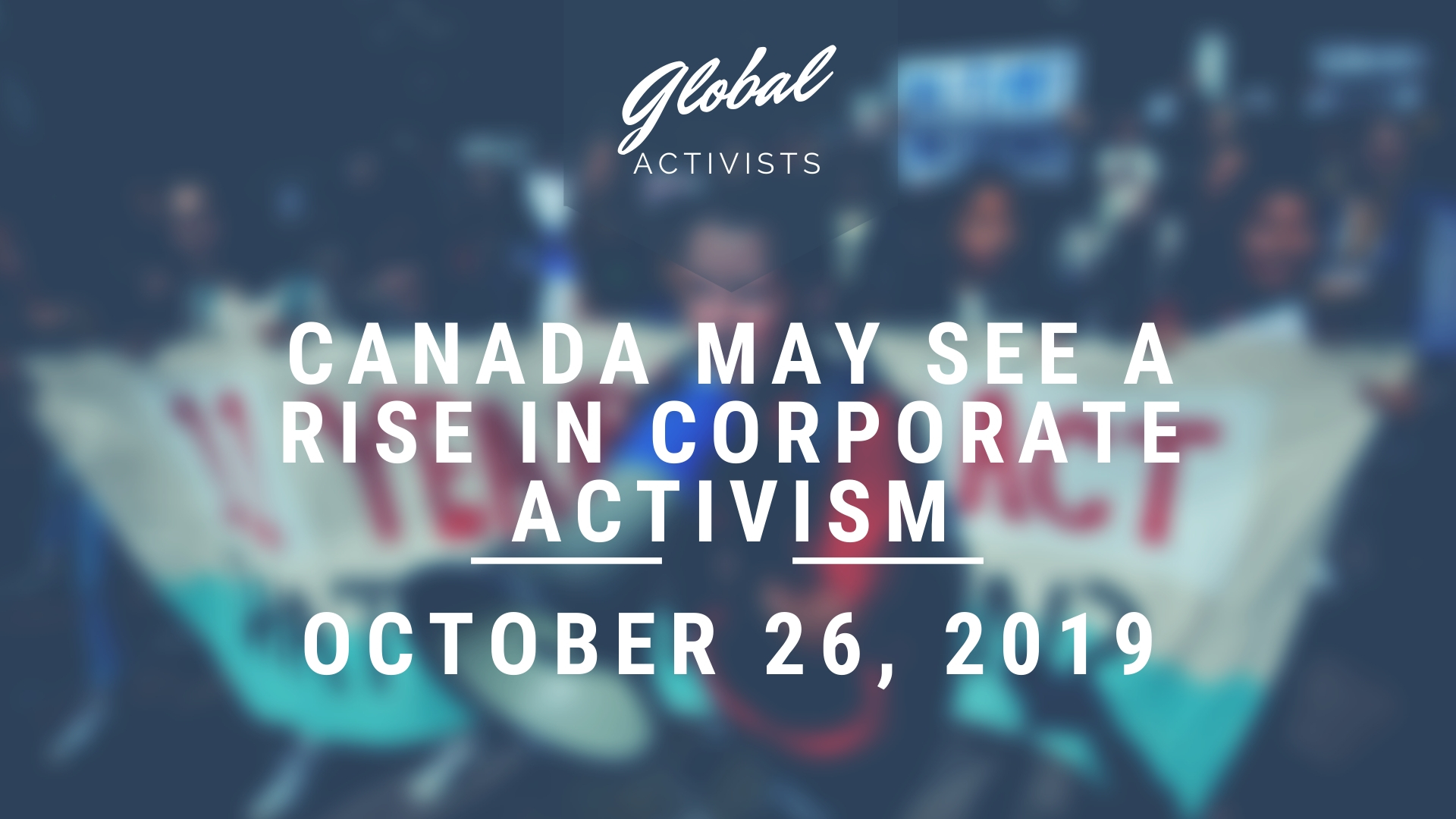 Canada saw a record high of shareholder activism in 2018, and even though the activity has waned a bit in 2019, speakers at the yearly Corporate Secretary Think Tank saw first-time activists numbers are rising.

Canada saw 78 activist campaigns in 2018, with 57 of them taking place before July. To date, there have been just 28 companies targeted – a marked 40 percent decline in activity. Some noteworthy scenarios from 2018 include the proxy fights at Crescent Point Energy, Hudbay Minerals and Detour Gold – which investors, who normally would not have been seen as activists, led or set up.

Kingsdale Advisors CEO Amy Freedman said situational activism is an issue, as anybody can become an activist. She said it's important people know who are voting their shares and that they understand activists' nature – be it in the U.S. or overseas.

Norton Rose Fulbright global chair Walied Soliman agreed, saying people need to take the letters of their shareholders seriously. What is done with those letters determines who is going to become activists.

Both of them feel issuers need to hold a powerful shareholder engagement strategy to reduce the chance for activism.

In 2018, there was a significant number of proxy contests regarding board seats; 18 of them going into the proxy meeting. This is nearly double the number in 2017 (10) with eight in 2016 and one in 2015. So far, there have been five contests in 2019. The outlook for settlements was a bit more stationary – 32 for 2017, 34 for 2018 and just 16 up to July 2019.

Soliman said with more shareholders becoming first-time activists or even activists having the backs of traditional shareholders; it's not as foreseeable if a campaign is going to a yearly meeting.

According to Freedman, it was the professional authorities' responsibility to make sure their boards understand what the possible susceptibilities are that could lead to activism in the company. They are, she said, a channel for the board.

Soliman agreed with Freedman's statement, saying they and corporate secretaries play a huge role in these situations. He said all campaigns have two parts – a reason for the campaign to take shape. As such, all fights have a moral narrative, which must involve the CEO or governing body in some way.

Freedom said it's important for these campaigns to be taken seriously, even if the activists aren't successful.