Fridays For Future Movement Grows, Leading To Climate Emergencies
The worldwide movement for climate change began with a 16-year-old schoolgirl in Sweden. Greta Thunberg has had the courage and drive to start a movement and the power within her to see it grow. While everybody should be concerned with climate change, it's the worldwide campaign of her activism that has caused politicians and other world leaders to sit up and wonder what urgent action needs to be taken.

Her Fridays for Future movement is the lightning rose to the climate change problem. These protests have caused six country world leaders to declare a climate emergency, but there is no affirmed definition for this term. The consensus though is that declaration acts are the starting point of which forthcoming decisions are made.

To reduce the chances of climate change effects, world leaders are looking at how their policies are affecting the climate. Many regions have created a goal of being carbon neutral by 2030.

These declarations began in the United Kingdom with Ireland, France and Canada following close behind. In May 2019, Germany's Konstanz became the first municipality to announce a climate emergency. But, all these declarations have been met with criticism with four of the countries that declared emergencies are subsidizing the fossil fuel industry.

Some critics claim school-aged children should be in school rather than being involved in climate strikes. According to Thunberg, it's the older generation that caused this issue and should not be saying kids should just be normal kids, as they are cleaning up after the older generation.

And, arguing against the movement Fridays for Future is difficult to do with the momentum gaining steam.

That's not to say these activists have not worked hard to get people involved in the climate change movement. There have been years of effort put forth already. It's nothing new, and people coming together to make a change isn't new either.

Germany is one of the more focal points for the Fridays for Future group, with protests bringing in large numbers of people. They are a great example of people supporting a cause. For instance, they came together to save Hambach Forest's last 200 acres from being mined.

And, Fridays for Future also helped to find Scientists for Future, where students and scientists are trying to increase awareness of what inaction could lead to.

Citizen activism is helping to expand participation, and Germany is just one of a few examples that show what can be done if enough people get involved and the politicians of the world can stop their bickering long enough to pass measures that save the planet before it's too late.

U.S. Activist Living In Germany Receives Dire Warning From Government Officials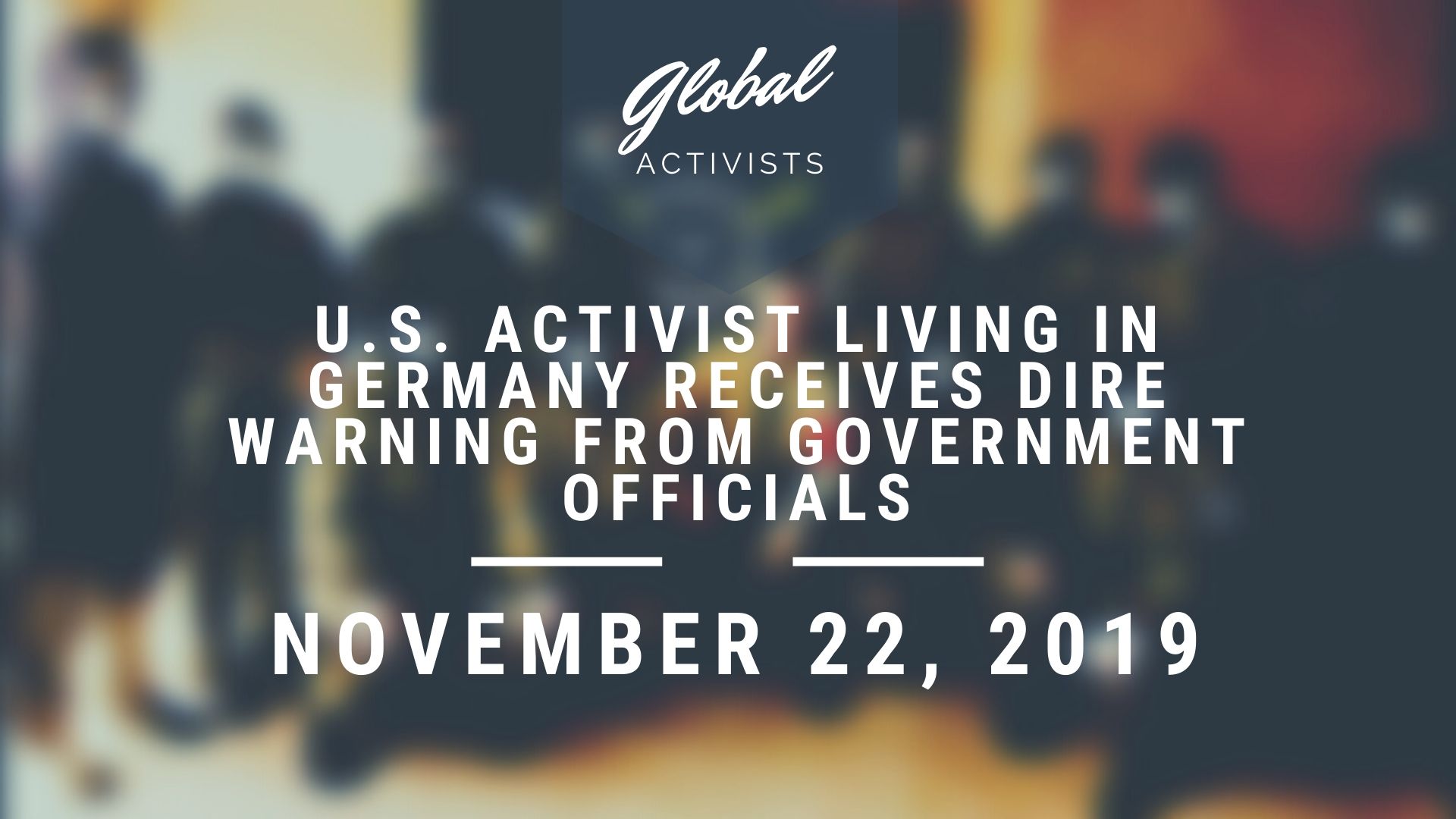 A U.S. activist living in Germany learned from the U.S authorities that Atomwaffen Division, a neo-Nazi terror group, threatened her life.
She moved to the country after receiving threats from the U.S. far-right. However, in November 2018, U.S. federal authorities warned the German Federal Criminal Police that an AWD member had arrived in Germany with the purpose of doing her harm.
The activist, whose name is not being held back for her safety, was given a few measures on how to best protect herself, such as erasing her address from official government records and be vigilant when going out at night. She has been an extremely vocal far-right critic and has taken part in numerous well-known anti-fascist protests.
In the German police messages, she was urged to call them immediately. The transnational warning, which was first reported on by Der Spiegel, corroborated her account.
According to the activist, she feels the international concerns were concerned when the person gained entrance into the country. German police informed her they knew who the person was, who he was meeting with and the person behind the threats. They couldn't, however, tell her where this person was.
Recently, a suspected American AWD member was denied entrance into the country.
The activist opted to go public with her story with the rising incidents of death threats and assassinations extremist groups happening by extremist groups in the country and the operational growth of the accelerationist neo-Nazi group.
Atomwaffen Division Deutschland allegedly emailed German Green politicians Claudia Roth and Cem Ozdemir death threats. The group alleged it had a list of people targeted for assassination. The group also reportedly put up flyers on German university campuses and homes throughout one Turkish neighborhood.
A far-right extremist admitted to killing Walter Lubcke, a pro-refugee Christian Democrat politician.
Another neo-Nazi group in Germany, Nordkreuz, was found, in June, to be in possession in a "kill list," containing names of politicians they saw as pro-refugee.
A far-right anti-Semite group carried out an attack in October on a Halle synagogue, using homemade explosives and guns.
The AWD group has been tied to about five U.S. murders, with members facing a plethora of charges from alleged bomb plots and weapons offenses. AWD members are not permitted to travel to Germany and Canada.
AWD started in the U.S. as part of the neo-Nazi subculture, which grew out of the Iron March forum. Anonymous activists leaked the whole Iron March archive, which revealed the website was a glue for a worldwide network of extremists.
The Anti-Defamation League said group members have embraced the accelerationism idealism, which operates on the premise of using violence to speed up society's collapse. The man charged in the 51 deaths of Christchurch in March subscribed to that philosophy.
The activist has urged the U.S. government and authorities to treat all terroristic threatening crimes as international terrorism.

Multiple Groups Plea With USDA To Leave SNAP Alone
Elle Simone Scott was just a child when her family needed food stamps and the free lunch school program to take care of the family.
She said there were several times in her life when the free lunch was when it was needed the most; so beneficial to her. She said it was often the most complete meal of her day.
Scott, a TV host of America's Test Kitchen and chef, has joined in on the fight to save the Food Stamp program from a suggested rule change the Trump Administration has brought forth. She was one of several dozen individuals – local activists, students, parents and anti-hunger groups that held a lunch-in outside the U.S. Department of Agriculture. They came with petitions that included 1.5 million signatures pleading with the agency to not go with the proposed rule change.
The change, which was announced during the summer, would cut off SNAP (Supplemental Nutrition Assistance Program) benefits to over three million people with the elimination of the broad-based categorical eligibility. This category gives states the flexibility to waive some income and asset limits for households that get welfare benefits as well as SNAP.
According to NPR Pam Fessler, the majority of states use these waivers because it's easier to carry out safety-net programs that have different eligibility requirements.
The USDA recently released a report that showed changing this would deem about one million kids ineligible for the free lunch program. The agency said the change would affect just half those kids because they could still be eligible if they applied for the program another way. Again, that means more paperwork, which puts more burden on families already having issues meeting their needs.
According to D.C. parent and local activist with PAVE (Parents Amplifying Voices in Education), Dionna Howard, it's a lot to go through to get the little given to families. Howard said her mother is still reliant on food stamps.
The report from the USDA shows that 51 percent of affected kids could be eligible for reduced-prices, with another four percent losing free lunch completely due to exceeding income eligibility limits.
Agriculture Secretary Sunny Perdue said the change would lead to a $2.5 billion a year savings for SNAP. However, anti-hunger non-profit DC Central Kitchen CEO Mike Curtin said SNAP is one of the least abused government programs, and leaders need to look at how they can expand it rather than limiting access to it.

He said the country is always talking about how the kids are the future, which means they need to have lunch to be that future.
While the public comment section for the SNAP change was closed on Nov. 1, ParentsTogether co-founder Bethany Robertson hopes the petition will spur lawmakers into taking action against the rule change.
Robertson said they anticipate other petitions will come forward and motivate some of them to say no thanks and come up with something else.
Employee Activism Changes Google's Meetings Format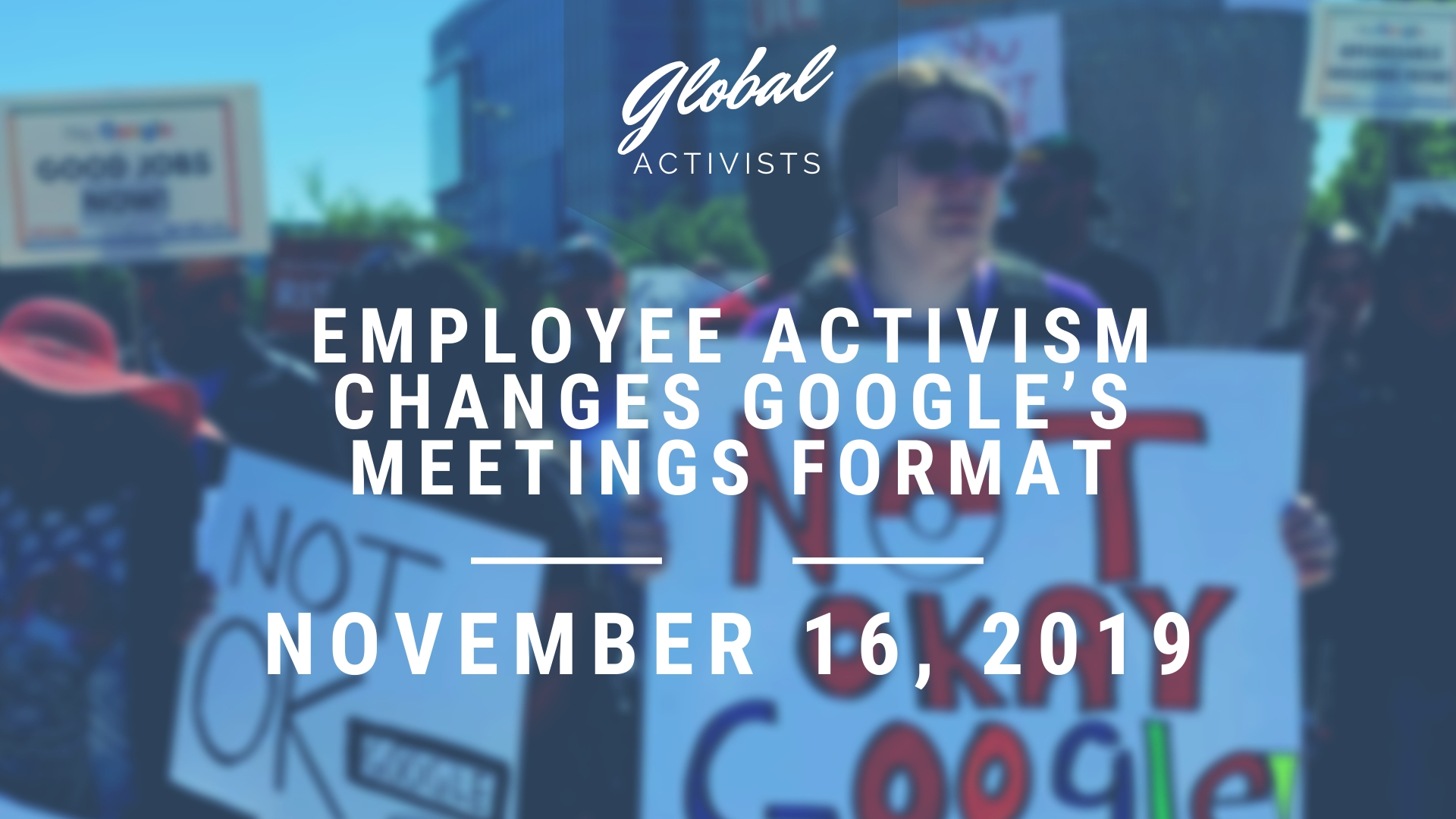 Sundar Pichai, Google CEO, recently announced in an internal email that employees would no longer need to do biweekly town hall meetings in response to the activism among Google employees.

Instead, the TGIF meetings will be held once a month and focus mainly on business and product strategy instead of internal politics. Pichai said TGIF typically offered a place to come together, ask questions, share what's going on and more. However, in the present format, it's not working.
Based on the letter, it seems Google wants something different to come from the meetings. Some people want attention on product launches or business strategies while others want to learn some answers about other things.
According to Pichai, Google realizes there has been an organized effort to provide the outside world with conversations going on with the company. He said the activism among the employees has led the company to hold town halls focused on workplace issues along with social TGIFs.