Chicago Protest Against Family Separations At The Border
On June 30, we'll be joining together to protest this administration's cruel policy of separating kids from their parents. Families belong together, and we need to end this — NOW. If you want to help Marshal please just come to the Marshal meet spot at Chicago Temple at 77 W Washington Ave at 9am to be placed on a team and trained. THE MARSHAL TRAININGS SIGNUP SHEET IS NOW CLOSED – no need to signup at this point, just come. If you can't make it to Chicago, go to FamiliesBelongTogether.org for more information on local events across the country. Organizing committee includes: Alianza Americas Amnesty International Dream Action Coalition Gather Activism Illinois Chapter, American Academy of Pediatrics (ICAAP) Illinois Coalition for Immigrant and Refugee Rights (ICIRR) Indivisible (Chicago, Illinois and Oak Park) Latino Policy Forum National Immigrant Justice Center (NIJC) Our Revolution Illinois PASO-West Suburban Action Project Planned Parenthood Illinois Action SEIU Healthcare Women's March-Chicago Women's March-Illinois Supporting organizations include: ACLU of Illinois AFGE Local 704 AFL – CIO American Friends Service Committee American Jewish World Service American Muslims for Palestine Anakbayan Chicago ANSWER Chicago Anti-Defamation League April 6th Movement Arab American Action Network Arab American Family Services Archdiocese of Chicago Arise Chicago Asian Americans Advancing Justice | Chicago Avodah Beth Emet The Free Synagogue CAIR-Chicago Cause the Effect Chicago Catholic Church Chicago Celts for Immigration Reform Chicago Children's Advocacy Center Chicago Compass Counseling Chicago Dia de los Ninos Chicago Japanese American Historical Society Chicago Religious Leadership Network on Latin America Chicago Teachers Union Chicago Votes Chicago Women Take Action Citizen Action – IL Civitas ChildLaw Center at Loyola University Chicago School of Law Committee for a Just Peace in Israel and Palestine Congregation Rodfei Zedek Council of Islamic Organizations of Greater Chicago Democratic Party of Oak Park Erie Neighborhood House Family First Domestic & Family Counseling Clinic Farmworker and Landscaper Advocacy Project Farmworker Justice Foster Care Alumni Association – Illinois Chapter GirlForward GoodKids MADCity Howard Brown Health Center Illinois Action for Children Illinois Collaboration on Youth Illinois Women's Institute for Leadership Training Academy International Socialist Organization Irish Community Support Japanese American Citizens League – Chicago Japanese American Service Committee Jewish Council on Urban Affairs Jewish Reconstructionist Congregation Jewish Voices for Peace – Chicago Karam Foundation Lake County Immigrant Advocacy Lakeside Congregation for Reform Judaism Latinos Progresando League of Women Voters Illinois Legal Aid Society of Metropolitan Family Services Logan Square Neighborhood Association March for Our Lives Milestones – For Kids' Success Mosque Foundation-Bridgeview Mujeres Latinas en Accion Muslim American Society Muslim Bar Association National Alliance for Filipino Concerns-NAFCON Midwest National Association of Social Workers (NASW) – IL Chapter National Nurses United North American Dominican Promoters for Justice and Peace (US & Canada) Northfield Township Democrats North/Northwest Suburban National Organization of Women Ojala Foundation Pediatric AIDS Chicago Prevention Initiative Pilsen Alliance Planned Parenthood Action Portage Park for Action, Respect and Community Protection for All Radio Islam Reclaim Chicago Refuse Fascism Chicago Religious Action Center-Illinois SEIU Illinois Council SEIU Local 1 SEIU Local 73 Sierra Club Illinois St. Sabina Suburban Unity Alliance Syrian Community Network Temple Jeremiah Tenth Congressional District Democrats The Council Of Islamic Organizations of Greater Chicago The Kedzie Center The People's Lobby The Young Center for Immigrant Children's Rights Tzedek Chicago US Palestinian Community Network Women Employed Note: By choosing to attend this event, you are committing to participate nonviolently, to work to de-escalate confrontations with others, and to obey the orders of authorized event marshals. You also acknowledge that you are solely responsible for any injury or damage to your person or property resulting from or occurring during this event and that you release all event sponsors and organizers (and their officers, directors, employees, and agents) from any liability for that injury or damage. ASL interpreters will be provided. Additional accessibility information will be posted as details of the rally are finalized.
Convictions For Two White Supremacists In Attack On Antifa Members
Two U.S. far-right group members were recently sentenced to four years behind bars for their participation in a fight with anti-fascist demonstrators that took place in New York.

John Kinsman and Maxwell Hare's sentences come as tensions between U.S. leftists and white supremacists are festering. The men are Proud Boys group members and were found guilty in state court back in August on several counts of attempted assault and rioting.
The jury determined the two were guilty of assaulting four Antifa members who were demonstrating outside an event where Kinsman and Hare were Oct. 12, 2018. Antifa is an anti-fascist group.

Prosecutors were hoping for five years in jail. However, a Manhattan District Attorney spokesman said the pair, instead, was sentenced to four years.

Proud Boys is an all-male group that Antifa members view as neo-Nazis. Antifa means anti-fascist that refers to a free international group of protestors and activists that disagree with the far-right's thoughts.

Reports of violence have been scattered against Antifa members.

Both groups have been holding counter-demonstrations and rallies throughout the nation, including the one in Portland, Or. Here, the Proud Boys and other ring-wing activists were holding up American flags and wearing Make America Great Again hats President Donald Trump used during the presidential campaign in 2016.

Antifa members and other leftist-counter demonstrators wore all black and masks.

In 2017, Antifa members and white supremacists fought each other at the Unite the Right rally in Virginia.

Alex Fields, Jr., an American neo-Nazi, was arrested, charged and convicted for killing a woman and injuring scores of others using his car during the protesting.

Canada May See A Rise In Corporate Activism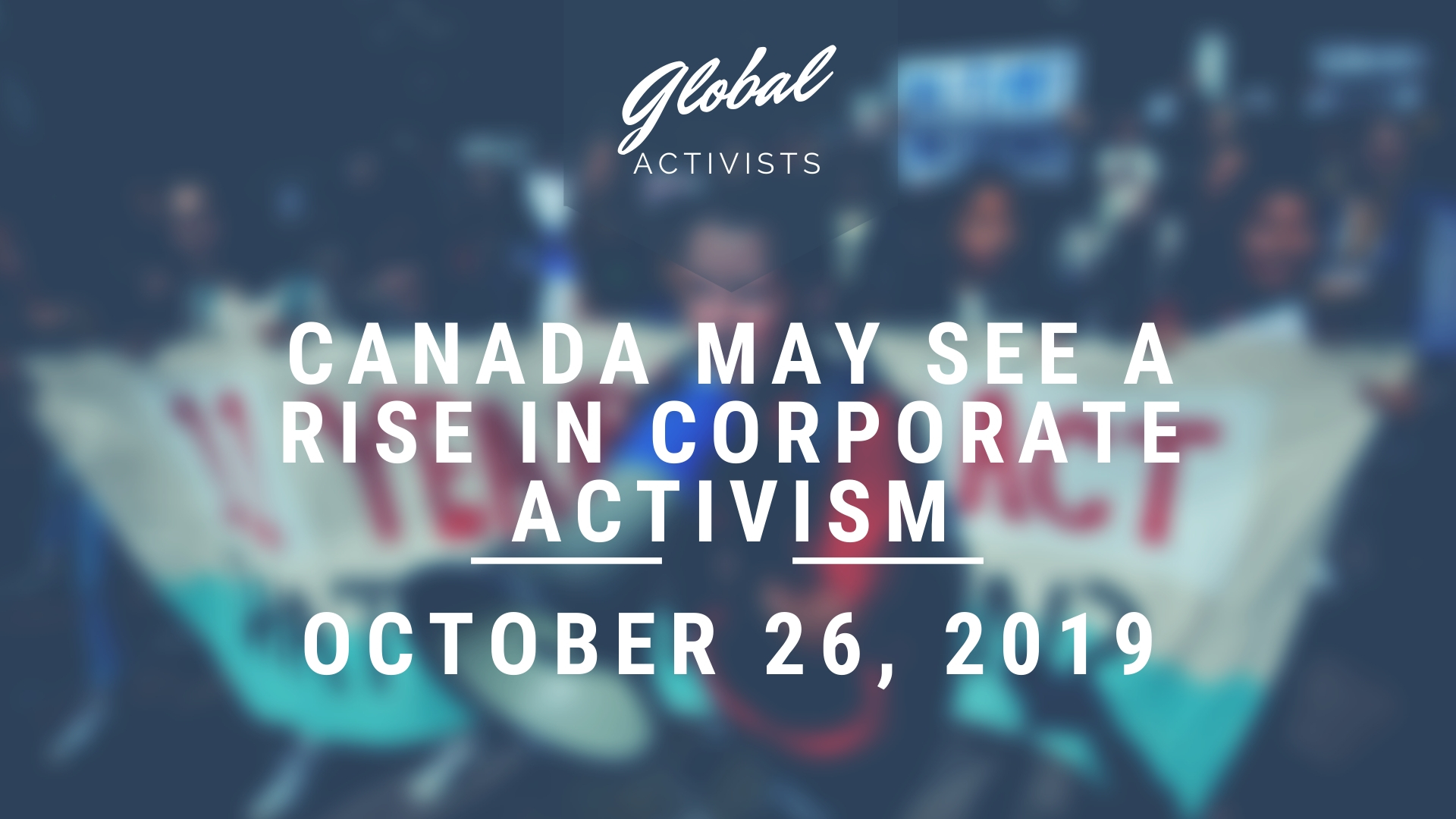 Canada saw a record high of shareholder activism in 2018, and even though the activity has waned a bit in 2019, speakers at the yearly Corporate Secretary Think Tank saw first-time activists numbers are rising.

Canada saw 78 activist campaigns in 2018, with 57 of them taking place before July. To date, there have been just 28 companies targeted – a marked 40 percent decline in activity. Some noteworthy scenarios from 2018 include the proxy fights at Crescent Point Energy, Hudbay Minerals and Detour Gold – which investors, who normally would not have been seen as activists, led or set up.

Kingsdale Advisors CEO Amy Freedman said situational activism is an issue, as anybody can become an activist. She said it's important people know who are voting their shares and that they understand activists' nature – be it in the U.S. or overseas.

Norton Rose Fulbright global chair Walied Soliman agreed, saying people need to take the letters of their shareholders seriously. What is done with those letters determines who is going to become activists.

Both of them feel issuers need to hold a powerful shareholder engagement strategy to reduce the chance for activism.

In 2018, there was a significant number of proxy contests regarding board seats; 18 of them going into the proxy meeting. This is nearly double the number in 2017 (10) with eight in 2016 and one in 2015. So far, there have been five contests in 2019. The outlook for settlements was a bit more stationary – 32 for 2017, 34 for 2018 and just 16 up to July 2019.

Soliman said with more shareholders becoming first-time activists or even activists having the backs of traditional shareholders; it's not as foreseeable if a campaign is going to a yearly meeting.

According to Freedman, it was the professional authorities' responsibility to make sure their boards understand what the possible susceptibilities are that could lead to activism in the company. They are, she said, a channel for the board.

Soliman agreed with Freedman's statement, saying they and corporate secretaries play a huge role in these situations. He said all campaigns have two parts – a reason for the campaign to take shape. As such, all fights have a moral narrative, which must involve the CEO or governing body in some way.

Freedom said it's important for these campaigns to be taken seriously, even if the activists aren't successful.

Activists Take Up Charge Over Hambach Forest Destruction
Western Germany's Hambach Forest is under siege from the largest power company that wants to clear the 12,000year-old natural resource for its coal mining expeditions. There is just 10 percent of the original 13,500 acres left.
Environmental activists have been living in the forest since 2012 in the hopes of stopping the destruction.
One activist, going by his forest name of Tricky, commented on the situation, saying nobody was going to save them, so they had to save themselves. He said people who stand up for themselves in the oppressive societies tend to meet either violence or death for speaking out. He said it was his duty to take some type of action.
Neha Hirve, a photographer, first learned of the forest community while in India for a separate project. When headlines mentioned the destruction of Hambach Forest, Hirve felt she needed to see the forest before there wasn't one.
Hirve traveled to Germany that next week and began a photo story about the community protecting the Hambach forest. She was given a phone number to meet with one of the activists but was told that she might not make it past a police barricade. This did not stop her.
She was able to enter the forest at night, walking until she found a structure the squatters built. Knocking on the door, the activists welcomed her in. Hirve said the home was damp and cold, and she thought to herself that she would not last a week.

For almost a year, she visited the area multiple times, and even though she expected some clashes between the activists and police, it never happened… at least not while she was there.
Hirve said the activists were like protectors of the forest, and she was drawn in by the stories of people who wanted to live beyond today's society. She said she tried to understand why they wanted to do it.
Her work has allowed others to get into the world of people who take up a cause, risking their lives to save something. In some of her pictures, people are wearing animal masks or using trash to build barricades.
With her pictures, Hirve was able to capture the state of mind the activists have, conveying it in a lighthearted way but still raising questions as to the decay of society.
Hirve never expected what activists were worried about. But police and special forces arrived in September 2018 to start evicting people from the area, which included destroying treehouses and placing activists under arrest. All this was stopped after a journalist fell out of a tree and died.
For the moment, the forest is safe with RWE telling the government it won't resume anything until late 2020. Its future, it seems, is still uncertain.